In celebration of the 50th anniversary of Earth Day, and to bring us together in a time of social distance, we revive a perennial favourite from year's past. Of course, with a virtual twist. 
From 2013 to 2016, Candlelight Club celebrated fine food, great drinks and beloved friends within the sanctuary of a radiant candlelight glow. Unplugged, conversing to the melodic sounds of acoustic entertainment, the dinner dialogue was rich and abundant. We felt like the timing was right to bring back the haven of light, reconnecting us to those amorous vibes on a day that is also about our Earth. 
After over a month in quarantine, have you had a romantic candlelight dinner party yet? We feel it's time to romantically unite, intimately virtual. 
On Earth Day 2020, April 22nd, from the comforts of our homes, we aim to create the largest virtual candlelight dinner our city has ever experienced. Connect to our live streamed entertainment, join our dinner dialogue thread and let's celebrate how great it is to be together, while apart. 
Aside from an optional donation to one of our charities, all we ask is a little effort. Design a candlelight dinner experience that you will be proud of, so much so that you are willing to show it off. 
A community effort presented by 
The Social Concierge
, 
National Bank Private Banking 1859
, 
Pavilion Cowork
, 
Red Bull
, 
Vancouver Candle Co
, 
Nude Beverages
,
Absolut Vodka
and 
The Ludo Group
. Charity supporting 
Ocean Wise
, 
Mind the Bar
 and 
Giustra Foundation
. Rallying hospitality support for 
Belgard Kitchen
, 
Chambar
, 
Wildebeest
, 
Cactus Club Cafe
, and
Man About Town Entertainment
Communications by
Camber Communications
. 
#ItsMoreFunInTheDark #Candlelight Club #EarthDay50
(Your participation is carbon negative: read how)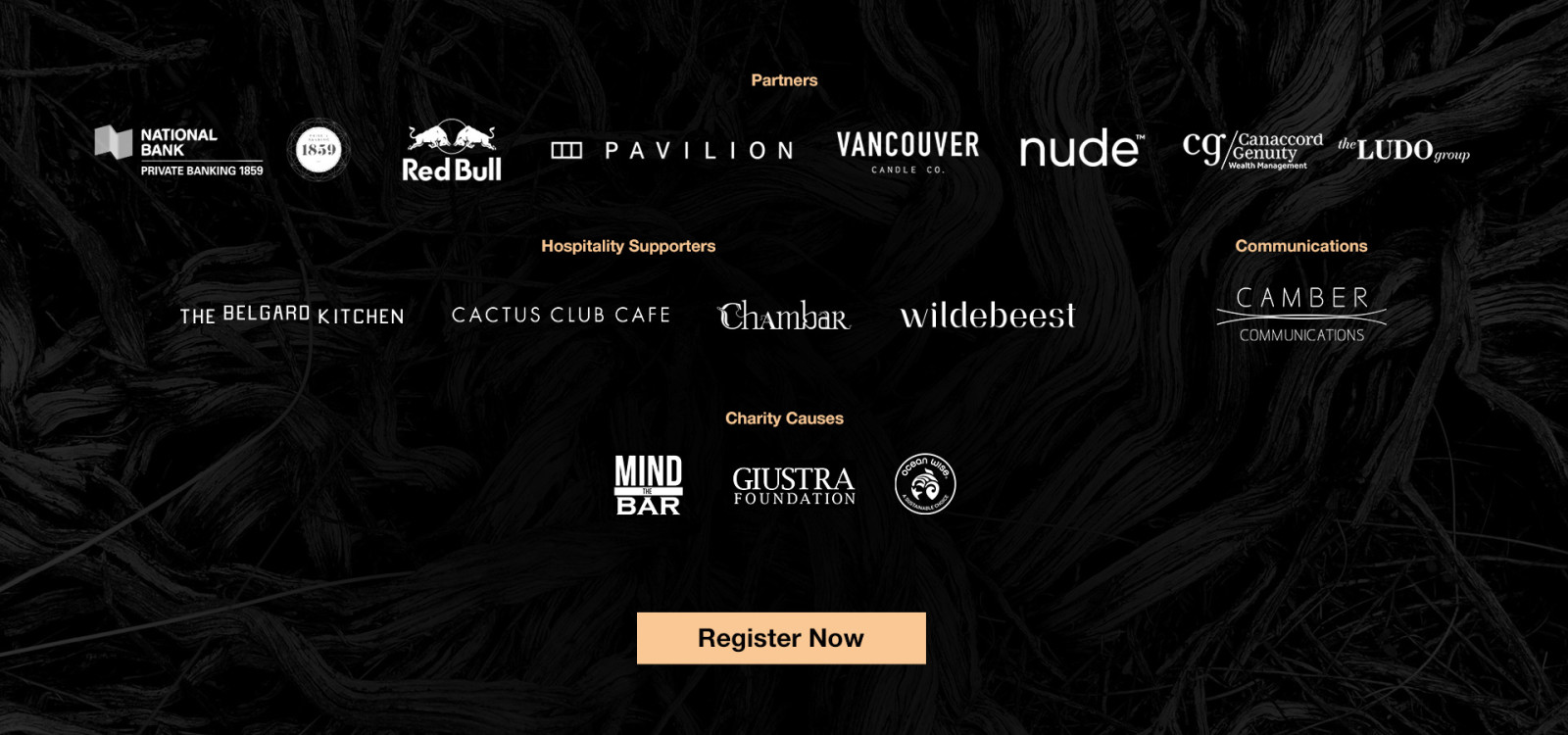 To participate, your "Candlelight Commitment" is simply the following.
The Commitment: 
Register for free and join the 5-hour entertainment livestream; OR 
Choose to donate to one of our three timely charities to engage more deeply with the experience
The Meal: 
Prepare or purchase a multi-course meal that will last 3 hours 
Avoid beef in your meal to support climate change action 
The Setting: 
Set a unique and intimate tablescape that represents your style, with at least one unlit candle
Get your candles this weekend! Vancouver Candle Co is hosting a sample sale from their local studio. Found out more here (they also offer free shipping on regular online orders over $100): https://www.vancouvercandleco.com/pages/sample-sale
Be prepared to turn all of your lights off at 8:15PM, and to collectively light our candles together
The Technology: 
Display the Candlelight Club entertainment live stream (both audio and video) on a larger device within your home
[Optional, access by donation only] Each participant in your household joins one of our "cloud cocktail tables" and dialogue chat thread with their mobile device or secondary computer.
The Action: 
Register and prepare your meal, your setting and your technology before April 22nd at 6:30PM
Join in on the Healthcare Heroes Cheer at 7:00PM, from a window or a balcony
Take a photo of yourselves and your meal prior to turning the lights off for the 3-hour dinner and share to Instagram #CandlelightClub #ItsMoreFunInTheDark #EarthDay50. Follow-and-tag @TSC_Agency and @vancouvercandleco to be entered into a contest to win
Host your own "cloud cocktail table" or Dinner dialogue conversation thread. We encourage all attendees to gather their closest friends and host their own virtual social space (via video conference technology) and/or their own conversation thread (via chat application). Make it public and allow new friends to join! We will share a list of all those who are willing to invite new people into their social spaces.

You can join for free, or you can choose to make a donation in these times of crisis to the hospitality industry through Mind the Bar, to the planet through Oceanwise or to food security through the Giustra Foundation. Learn more about each charity and what they mean to us, below. 
Complimentary Registration includes: 
Participation in the "Candlelight Commitment", a bit of preparation before #EarthDay50
An opportunity to support one of our restaurant partners by purchasing a multi-course meal from them (more information below);
Access to the @TSC_Agency Candlelight Club DJ Live Stream, led by Man About Town Entertainment;
Access to the social contest #Hashtag campaign 
Donation Registration includes: 
Participation in the "Candlelight Commitment", a bit of preparation before #EarthDay50
An opportunity to support one of our restaurant partners by purchasing a multi-course meal from them (more information below);
Access to the @TSC_Agency Candlelight Club DJ Live Stream, led by Man About Town Entertainment;
An invite link for each person in your household to the @TSC_Agency "cloud cocktail lounge" (via Zoom) and the master dinner dialogue thread (via WhatsApp)
An opportunity to host your own "cloud cocktail table" for friends and strangers
Access to a comprehensive list of other open attendee-driven virtual social spaces
(Your participation is carbon negative: read how)

The virtual social space is evolving fast in this new world. In the past weeks we have learned that virtual experiences requires participation. And we encourage you to participate by hosting your own virtual social spaces to connect with friends and strangers during this experience. 
How this would work: 
You set up a Zoom, Whereby, Houseparty or other virtual video space that is able to long stream and include multiple friends 
You setup a WhatsApp, Messenger, Telegram or other virtual conversation thread to host chat conversation during the experience
You choose to make these spaces either private (your friends only) or public (open to anyone attending Candlelight Club)


The experience will last for five plus hours. All event times are published in Pacific Time (PDT). 
Virtual Arrival / Logging on Period: 6:00PM – 6:30PM
Virtual Connection Begins: 6:30PM 
Healthcare Heroes Cheer: 7:00PM 
Dinner Begins: 7:15PM
Candle Lighting Ceremony: 8:15PM
Dinner Service Ends: 10:00PM
Social Distance Candlelight Dance: 10:00PM – late
Attendees are encouraged to join from any location, but timing likely works best for those located on the west coast of North America. 
The entertainment lineup for the evening includes: 
Man About Town Entertainment (Candlelight Club Live DJ)
A leading force in the Vancouver entertainment scene, Michael of Man About Town Entertainment has been working in the industry for over 15 years. Never one to be boxed in, Michael's diverse sound is truly what sets him apart. Best known for his live DJ sets at events like Dîner en Blanc – Vancouver, Harvest Haus, and the Urban Grind, Michael has now taken the online live stream world by storm, hosting over 5000 people from around the world in just 4 short weeks. Tune in to his sets 90's at Noon, FUN-raiser Fridays & Social Distance Dance Party every week on Twitch: www.twitch.tv/themanabouttowndj
David Morin 
Morin's unique fusion of soul, hip-hop and jazz… That voice: melodic and as smooth as honey, reminiscent in sound and vibe to the likes of D'Angelo and John Legend. A guitar virtuoso with a knack for making a solo performance sound like a whole band.  Morin's riffs bring to mind the licks of blues and funk masters. Playful hints of disco and pop add retro flavour to a contemporary pop aesthetic that's as accessible as it is seductive. Listen to his many channels here: https://davidmorinmusic.com/
Shylo Sharity 
Country Singer Songwriter. A mix of Confetti, Caffeine and Adventure. Check her out here: https://www.youtube.com/watch?v=jSYpubof1oI
Rozie
A blooming singer songwriter whose sun tinged R&B sound seeks to convey the best aspects of her bubbly personality. Subconsciously drawing influences from artists like Erykah Badu, Tom Misch, SZA, The Internet, Sade, and Alicia Keys;  Rozie blends multiple sounds together while injecting a brand new spin all her own. Check out her music here: 
https://www.officialrozie.com/
Tonye Aganaba
Tonye Aganaba is a multidisciplinary artist, musician, and facilitator residing on the unceded territories of the Squamish, Musqueam & Tsleil-Waututh First Nations. Their new album 'Something Comfortable' is an intentional and devotional endeavour inspired by their battle with Multiple Sclerosis. Check her out here: https://tonyeaganaba.bandcamp.com/

The following charities have been selected by Jordan and Tyson at The Social Concierge to achieve three goals: 
Support the struggling food and beverage hospitality industry (Mind the Bar); 
Support a food program that promotes planet sustainability (Oceanwise); and 
Support low-income resident food security (Giustra Foundation)
Below you will find a short description of each charity. If you choose to donate, you may pick one of the charities for your donation, or spread your donation equally over all three. 
At its core, Mind The Bar is a mental health resource, information & support system, and community hub designed for the hospitality industry. The organization focuses on the major issues of depression, anxiety, addiction & workplace harassment. Mind the Bar's goal is to ultimately dismantle the negative stigma associated with mental health by changing the way we discuss, address & cope with it.
"In response to the COVID-19 crisis, The Giustra Foundation has been working with the private sector and other non-profits to establish an emergency feeding program that provides healthy meals to low-income women and children, vulnerable seniors, and others in need in our community. Many of us are in the position to lend a helping hand. Now is the time to step up and do our part." Donate HERE
Ocean Wise Seafood is deeply touched by the restaurant community coming together in such a meaningful way during these uncharted times.  The COVID-19 pandemic is shining a bright light on the fact that we are all tightly interconnected; with each other, the planet, and the food systems that nourish us. The Candlelight Club event is a wonderful example of positive action that is being taken to bring people together in creative and delicious ways. Bravo!" – Sophika Kostyniuk, Manager, Ocean Wise Seafood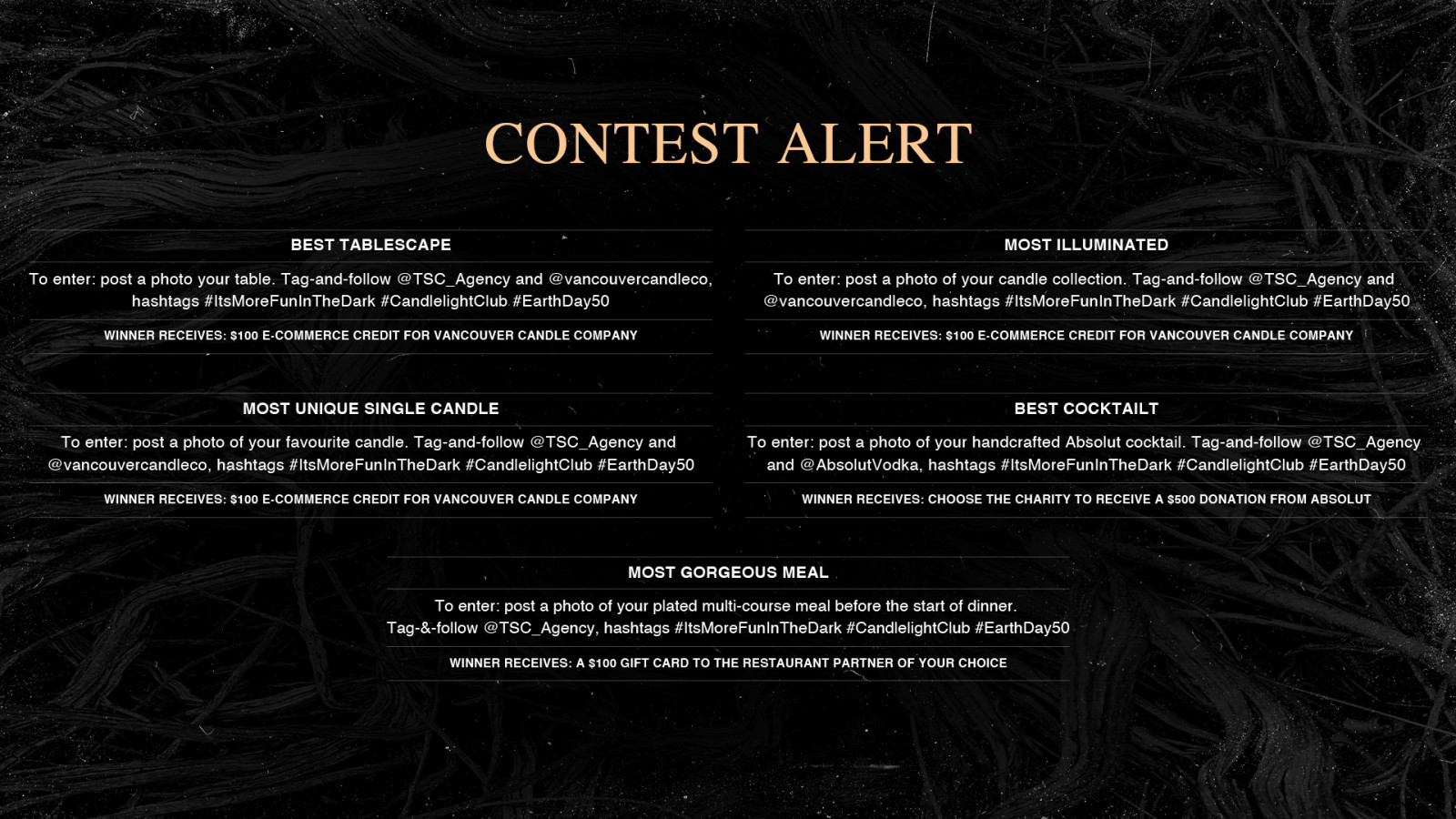 (Your participation is carbon negative: read how)